Ihre Veranstaltung in der GERMENS Store & Lounge
Die außergewöhnliche Eventlocation in Chemnitz-Rabenstein
Sie können das einmalige Ambiente des GERMENS Store & Lounge für Ihre geschäftliche Veranstaltung nutzen und Ihren Gästen einen amüsanten Aufenthalt bieten.

Die Räumlichkeit ist so konzipiert, dass bis zu 60 Personen Platz finden. Die gute Infrastruktur zu den Autobahnen A4 und A72 sowie zu den Landstraßen nach Limbach-Oberfrohna und Zwickau sorgen für eine einfache und bequeme Erreichbarkeit. Kostenlose Parkplätze im Objekt und an angrenzenden Straßen bieten Platz für viele Fahrzeuge.

Es fanden schon mehrere Veranstaltungen statt und die Gäste sowie Veranstalter waren immer begeistert. Das NINERS-Sponsorentreffen war sehr gut bei den Gästen angekommen ebenso wie ein Come Together der Fa. Zschimmer & Schwarz Mohsdorf mit internationalen Gästen bei Jazzmusik und kaltem Buffett. Die Versteigerung von Tellern des Vereins Tellerlein-deck-Dich e.V. mit über 120 Gästen war ein großer Erfolg. Zur Eröffnung des GERMENS Stores waren über 320 Gäste anwesend. Im Außenbereich wurden zusätzliche Pavillons und Getränkewagen gestellt.

Wir können Ihnen z.B. von der Bestuhlung über die musikalischen Umrahmung bis zur gastronomischen Versorgung alles organisieren, was Sie für einen gelungenen Event benötigen. Eine große Projektionsfläche z.B. für Schulungs- oder Produktvideos ist vorhanden.

Sprechen Sie uns an und wir beraten Sie sehr gern zu den Möglichkeiten und Konditionen für eine außergewöhnliche Veranstaltung im GERMENS Store & Lounge!


Kontakt: René König
Telefon: +49 (0)371 6665266
Mobil: +49 (0)171 1455502
info@germens.de



By car you can reach us from the A4 motorway exit 67 Limbach-Oberfrohna, direction Rabenstein. After approximately 3.5 km you will see an orange freestanding building with a white shop facade on the left. You can park directly in front of the shop, in the courtyard behind or on the streets of the neighborhood.

From the A72 motorway, take the Rabenstein exit. The new motorway access is only 1.5 km to Rabenstein. Shortly after you turn left at the intersection Oberfrohnaer Strasse, you will reach our shop on the left side of the road.

If you drive along Zwickauer Straße, turn right at the traffic lights into Oberfrohnaer Straße. At first it is easy downhill, then uphill about 700 meters. Shortly after the doctor's office on the right-hand side of the street, you will reach the GERMENS Store & Lounge.

If you arrive by train, please get off at Siegmar station. Go across the traffic light to the other side of the road and cross the Oberfrohnaer Straße after about 1,000 meters to Germens Store. It takes about 10-15 minutes.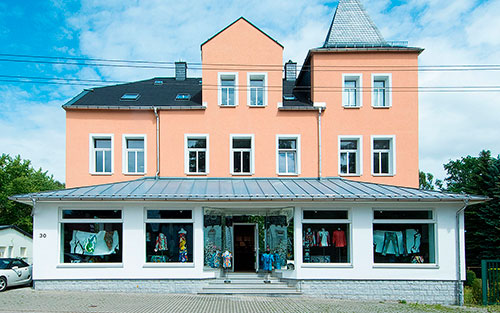 GERMENS artfashion
FIRST CLASS BUT DIFFERENT